Morrill Memorial & Harris Library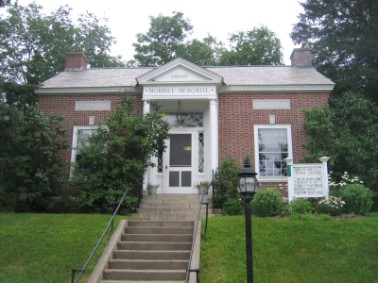 Hours:

Monday 1:00-8:00

Wednesday 2:00-5:00

Thursday 10:00-5:00

Saturday 9:00-12:00


Phone: 802-765-4037
Email: straffordvtlibrary@gmail.com
Stay-at-Home Family Activities



To help parents find substitute activities for some of the children's programming that the library would normally offer, Sarah Rogers, our children's programming coordinator, has created Strafford Stortytime, a website for children (and their parents) to enjoy. In addition to some links to videos of children's book readings, the site offers children's book recommendations and some suggestions for craft projects and other activities. Information about our summer reading program, "Imagine Your Story," will be posted on the site, which can be found at

https://straffordstorytime.wordpress.com/

Meanwhile, the library remains closed to in-person visits, but patrons can continue to check out materials for curbside pick-up. To find out what books, DVDs and other materials are available, visit our online catalog above and email your requests to Straffordvtlibrary@gmail.com. Pick-up is Thursday afternoon from 1-3 by the back door. (We can also make arrangements to deliver library materials to patrons who are unable to come to the library on Thursday afternoons.) We are not yet accepting returns, but hope to have a plan in place soon that will incorporate best practices for quarantining materials prior to circulating them again.

Patrons continue to have access to a wide range of books, videos, online courses, magazines and other material through our digital offerings (see below). Should you need to get your library card number or require other assistance, feel free to contactl Library Director Melissa Strayton through the library email or by calling 765-4037 and leaving a message.




While the Library Is Closed ...
While the library is closed and the circulation of items in our physical collection has stopped, patrons will still have access to a wide range of books, videos, online courses, magazines and other material through our digital offerings, which are listed below. Should you need to get your library card number or require other assistance, feel free to call Library Director Melissa Strayton through the library email at Straffordvtlibrary@gmail.com or by calling 765-4037 and leaving a message.
Access to our high-speed internet service will still be available 24/7 to those who park (or, if the weather permits, sit) outside the library.
Our online offerings include:
Overdrive, through the Green Mountain Library Consortium (GMLC), provides free access to downloadable eAudiobooks and eBooks. https://gmlc.overdrive.com/
On the landing page, you will be asked to select your library on a pull down menu and then to enter your patron account number (contact the library if you need your account number).
The Vermont Online Library offers a wide array of electronic databases through Gale/Cengage on a variety of topics geared to a variety of age levels, for both generalists and specialists. These resources are available 24 hours-a-day anywhere Internet access is available. The information is produced by known and trusted publishers. These include many newspapers and magazines.
https://vtonlinelib.org You will be asked for geo location, that will connect you to the Morrill Library account.
Kanopy is an online streaming video service with material from sources like PBS and the BBC. Please note that the library is billed $2 per view; for this reason there are viewing caps of 3/month for each patron. Only start a movie you want to watch. You have 72 hours from the time you begin the film to complete it without additional charge.
Right now, the service is offering a number of movies and a wide range of quality children's programming at no charge. (Usually children's programming service is billed at $5/30 days of unlimited viewing). Please contact the library for further instructions on using this service.
https://straffordlibrary.kanopy.com
Universal Class provides access to a wide range of online classes.
https://vermontstate.universalclass.com/barcode-login.htm?enter+code
LearningExpress Library provides a comprehensive selection of academic and career-related material. It includes skill-building in reading, writing, math, and science, college admissions exams, occupational licensing tests, workplace skills improvement, career exploration, and much more. Follow the link, and create a login and password.
https://www.learningexpresshub.com/?AuthToken=7D8DFFB6-42A8-4C31-8197-6866AB096C17
You can read more about the program here - https://libraries.vermont.gov/online_library/LearningExpress
Library Closed
Due to the COVID-19 pandemic, the Morrill Memorial and Harris Library is now closed to the public until further notice. We are unable to fulfill book requests or accept returns at Coburn's, the Strafford Post Office or at the library. Please help us by keeping your library items at home for now.
This website has a list of online materials that you can access while the library is closed. While our librarian, Melissa Strayton, will not be physically at the library, she will be working remotely and can answer questions about e-books, e-Audio and other digital services.
Thank you for your understanding and stay healthy.
-- The Morrill Memorial and Harris Board of Trustee
Kanopy Movie-Streaming Service
The library is pleased to offer the Kanopy film-streaming service, an on-demand collection of 30,000 titles, including classic movies, documentaries, foreign language works, hard-to-find films, indie productions, PBS shows and The Great Courses. Films can be streamed from any computer, smart TV or mobile device by donwloading the Kanopy app. Patrons can access Kanopy by visiting straffordlibrary.kanopy.com, clicking on "Sign Up" and entering their name, email address and library number. Feel free to stop by the library or call if you need to obtain your library number or would like assistance.
Please keep in mind that the library is charged per view, so patrons can help us keep the service affordable by streaming only those movies they intend to watch -- rather than sampling several. Movies that are stopped and paused can be completed within 72 hours without incurring an additional charge.
Universal Classes
These are high-quality online courses available for free. See information on our links page.