Morrill Memorial & Harris Library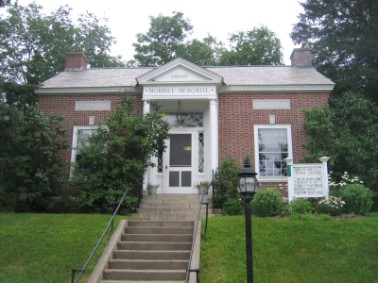 Hours:

Monday 1:00-8:00

Wednesday 2:00-5:00

Thursday 10:00-5:00

Saturday 9:00-12:00


Phone: 802-765-4037
Email: straffordvtlibrary@gmail.com
New and
Ongoing Activities
This year's annual Holiday Sale and Raffle to benefit the library will be Saturday, Dec. 7, from 11 a.m. to 2 p.m. Delicious baked goods, holiday wreaths, potted bulbs, regiftables and jewelry will all be available. Enjoy punch and cookies with friends and neighbors as you shop.
Once again, there will be a raffle with great prizes. If you don't get the chance to buy raffle tickets at Coburn's Store or in the library during the week before the sale, you can purchase them during the sale at the library. It is not necessary to be at the drawing to be among the three winners who will be chosen at 2 p.m,, when the sale closes. Among the prizes: a spring or summer weekend in a newly-renovated, 3 bedroom-3 bath, fully equipped Stowe condo with great access to hiking and mountain biking; Dartmouth Skiway and Suicide 6 ski passes; numerous gift certificates, including Artistree, the Nugget Theater, Morano's Gelato, Boloco, South Royalton Market, First Branch Coffee, Farmer's Market (Waterbury & Woodstock); and a basketful of Strafford's finest arts and crafts, including a wonderful gingerbread house, pottery, greeting cards and a wood block print.
And, of course, wreaths will be available both in front of the library and at Barrett Hall, in conjunction with the annual fair that runs from 10 to 3.
Movies Available on Demand
The library is pleased to offer the Kanopy film-streaming service, an on-demand collection of 30,000 titles, including classic movies, documentaries, foreign language works, hard-to-find films, indie productions, PBS shows and The Great Courses. Films can be streamed from any computer, smart TV or mobile device by donwloading the Kanopy app. Patrons can access Kanopy by visiting straffordlibrary.kanopy.com, clicking on "Sign Up" and entering their name, email address and library number. Feel free to stop by the library or call if you need to obtain your library number or would like assistance.
Please keep in mind that the library is charged per view, so patrons can help us keep the service affordable by streaming only those movies they intend to watch -- rather than sampling several. Movies that are stopped and paused can be completed within 72 hours without incurring an additional charge.
Universal Classes
These are high-quality online courses available for free. See information on our links page.