Morrill Memorial & Harris Library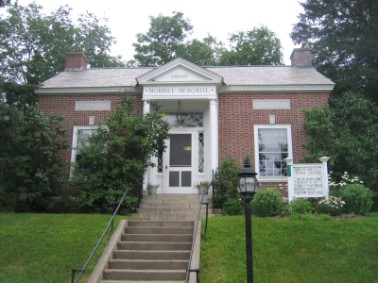 Hours:

Monday 1:00-8:00

Wednesday 2:00-5:00

Thursday 10:00-5:00

Saturday 9:00-12:00


Phone: 802-765-4037
Email: straffordvtlibrary@gmail.com

A UNIVERSE OF STORIES
2019 Summer Library Programming

Please note: All programs are free and will be at the library on Monday evenings from 6:30-7:30, except Fire Truck Night, which will be held at 6:30 on the Common.
**Sign up for the summer reading challenge and pick up your reading log starting the week of July 1.**
July 9: Getting to Know You: Come learn about our solar system and make a planet necklace.
July 15: Moonlight Serenade: We'll look at the phases of the moon, read moon stories and make a moon-phase spinner cup.
July 22: One Giant Leap: We'll celebrate the 50th anniversary of the Apollo 11 moon landing with books, video clips of the moon walk, and making (and launching) rockets.
July 29: Touching the Sky Dome; Stories of the Moon, Sun and Stars, a musical program by Michael Caduto. This sing-along performance uses songs, chants, native instruments (drum and rattles) and entertaining stories that are carefully chosen from among indigenous cultures. This program is suitable for all ages. Please contact the library by July 24 if you are interested in attending, so we have an idea of how many folks to expect at this popular event. straffordvtlibrary@gmail.com or call 765-4037
Aug. 5: Plant Universe, Learning About and Building Biospheres* Dr. Jaqueline Soule will discuss how people could feed themselves if they lived in outer space all the time, or on the moon. She will introduce the concept of biospheres and nutrient cycles and each participant will make a bi0sphere to take home. A sheet with care tips will be included. This program is suitable for ages 4 and up, ages 4-6 will need an adult helper.
*Supplies for this program are limited so please pre-register for this event by emailing straffordvtlibrary@gmail.com or calling 765-4037 by July 31.
Aug. 12: Fire Truck Night: Meet at the Common. Wear a swimsuit and bring a towel! Everyone welcome!
Aug. 19: Blast OFF!: Closing party to celebrate all the good reading everyone has done with awards and space-based foods.
The library is a great place to be in the summer. The building is cool when it's hot and cozy on rainy days. Games, puzzles, coloring sheets, and building-bricks are always available. Meet up with friends to visit and play as well as choose new books. See you soon!
New and
Ongoing Activities


Movies Available on Demand



The library is pleased to now offer the Kanopy film-streaming service, on on-demand collection of 30,000 titles, including classic movies,documentaries, foreign language works, hard-to-find films, indie productions, PBS shows and The Great Courses. Films can be streamed from any computer, smart TV or mobile device by downloading the Kanopy app. Patrons can access Kanopy by visiting https://straffordlibrary.kanopy.com, clicking on "Sign Up" and entering their name, email address and library number. Feel free to stop by the library or cll if you need to obtain your library number or would like assistance in signing up. Pleae keep in mind that the library is charged per view, so patrons can help us keep the service affordable by streaming only those movies they intend to watch -- rather than choosing one by sampling several. Movies that are stopped and put on pause can be completed within 72 hours without incurrng an additional charge.
Universal Classes
These are high-quality online courses available for free. See information on our links page.