Morrill Memorial & Harris Library






RESCHEDULED:

A LONG NIGHT'S JOURNEY INTO DAY:

Growing Up in Nazi Germany




NEW DATE AND LOCATION:
Sunday, September 10, 4 pm


United Church of Strafford




The Morrill Library Trustees will welcome our Tunbridge neighbor, Herbert A. Goertz, reading from his book, "A Long Night's Journey into Day: Growing up in Nazi Germany."




Although the events described in the book occurred many decades ago, Goertz believes "they are disturbingly relevant to the current political climate in this country. Democracy was under attack then, as sadly, it is again today."



LISTS OF NEW MATERIALS MAY BE FOUND UNDER OUR NEWS TAB
IMPORTANT GMLC/OVERDRIVE UPDATE:

BEGINNING MAY 1. 2023
PATRONS WILL NEED TO USE THE
LIBBY APP
If you are a patron that uses OVERDRIVE/GMLC/LIBBY to access audiobooks and/or eBooks, beginning Monday, May 1, you will be required to access these resources using the LIBBY App. Direct access via Overdrive will no longer be supported.
Please remember as well, PASSWORDS are still required. Contact the library by phone or email straffordvtlibrary@gmail.com to obtain your password. You will use this password in addition to your account number of record.
THANK YOU TO THE FRIENDS OF THE MORRILL MEMORIAL AND HARRIS LIBRARY FOR ANOTHER SUCCESSFUL BOOK SALE AND TO EVERYONE WHO VOLUNTEERED, DONATED AND PURCHASED BOOKS!
IT TAKES A VILLAGE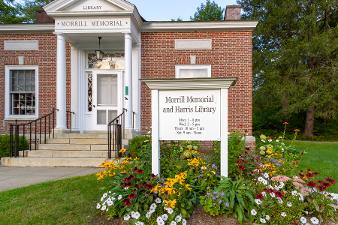 Hours:

Monday 1:00-8:00

Wednesday 2:00-5:00

Thursday 10:00-5:00

Saturday 9:00-12:00


Phone: 802-765-4037
Email: straffordvtlibrary@gmail.com


Please note that the board of Trustees agreed at their September 2022 meeting that masks will no longer be required to enter the building. Their use is appreciated!
SERVICES
The library offers interlibrary loan service for items not part of the library collection. Access to our high-speed internet service is available outside the library at any time of the day. Wireless printing, copier (black and white only) and computers are available for patron use during open hours.
Please consider spending some time exploring our website, where you can find a wealth of online offerings for such materials as downloadable audiobooks, a movie streaming service and online classes. Some online services require your patron number, which our librarian can provide. Our website also provides a running list of newly acquired books, audiobooks and DVDs under the NEWS tab.
FOR CHILDREN

The 2023 SUMMER READING PROGRAM SCHEDULE may be found under the

PROGRAMS tab or at this link.

Programs are held on Monday evenings at 6:30 pm at the library. Weekly take and make crafts will be available throughout the summer.




https://www.straffordlibrary.org/programs.php









ONLINE SERVICES
Our online offerings include:

OVERDRIVE UPDATE:
PASSWORD REQUIRED AS OF JUNE 1, 2022

Contact the library via phone or email to be assigned your password.
Overdrive/Libby App through the Green Mountain Library Consortium (GMLC), provides free access to downloadable eAudiobooks and eBooks. https://gmlc.overdrive.com/

On the landing page, you will be asked to select your library on a pull down menu and then to enter your patron account number (contact the library if you need your account number).
The Vermont Online Library offers a wide array of electronic databases through Gale/Cengage on a variety of topics geared to a variety of age levels, for both generalists and specialists. These resources are available 24 hours-a-day anywhere Internet access is available. The information is produced by known and trusted publishers. These include many newspapers and magazines.
You will be asked for geo location, that will connect you to the Morrill Library account.
Kanopy The library is pleased to offer the Kanopy film-streaming service, an on-demand collection of 30,000 titles, including classic movies, documentaries, foreign language works, hard-to-find films, indie productions, PBS shows and The Great Courses. Films can be streamed from any computer, smart TV or mobile device by donwloading the Kanopy app. Patrons can access Kanopy by visiting straffordlibrary.kanopy.com, clicking on "Sign Up" and entering their name, email address and library number. Feel free to stop by the library or call if you need to obtain your library number or would like assistance.
Please keep in mind that the library is charged per view, so patrons can help us keep the service affordable by streaming only those movies they intend to watch -- rather than sampling several. Movies that are stopped and paused can be completed within 72 hours without incurring an additional charge. Unlimited children's programs are billed at a flat rate of $5/30 days of viewing.
https://straffordlibrary.kanopy.com
Universal Class provides access to a wide range of online classes.
https://vermontstate.universalclass.com/barcode-login.htm?enter+code
LearningExpress Library provides a comprehensive selection of academic and career-related material. It includes skill-building in reading, writing, math, and science, college admissions exams, occupational licensing tests, workplace skills improvement, career exploration, and much more. Follow the link, and create a login and password.
https://www.learningexpresshub.com/?AuthToken=7D8DFFB6-42A8-4C31-8197-6866AB096C17
You can read more about the program here - https://libraries.vermont.gov/online_library/LearningExpress